Alright, ready for some designer dupes that won't break the bank (get ready to shop)? I am the first to admit that I love designer items. If I was stranded on an island and could only take one item, ya'll know it would be my Louis Vuitton Neverfull MM (see my Louis Vuitton dupes post). But as I've gotten older and piled up the responsibilities, I will almost never spend a pretty penny on these luxe items anymore – like $300 for the Gucci belt (see my Gucci belt dupes post). Let's just say my designer days are over. BUT it got me thinking that there must be some designer inspired items online that I can find and share with women who feel the same way I do. So, here you go betches. A few fabulous affordable designer dupes.
Favorite Designer Dupes
GUCCI BELT DESIGNER DUPES ($5, $10, $15, $20)
GUCCI TIGHTS
Literally my all time favorite designer dupe that I wear with jeans, skirts, dresses, you name it! Depending on where you purchase the gucci belt dupe – you get what you pay for! But all of these are quality enough for me 🙂 !

LOUIS VUITTON DESIGNER DUPES (Under $50)
These Louis Vuitton accessories dupes are absolutely gorgeous! Great quality and so close to the real thing (no LV logos present though). I love that Walmart now carries these Louis Vuitton designer inspired bags, wallets, accessories, and more! Find my full blog post with ALL STYLES of Louis Vuitton designer dupes here.

BURBERRY BAGS DESIGNER DUPES
OTHER DESIGNER DUPE BAGS

DAVID YURMAN JEWELRY DESIGNER DUPES
These David Yurman jewelry dupes are absolutely STUNNING friends! Available from a variety of retailers, they are excellent quality (mine have not rusted and it's been a good amount of use).

TIFFANY & CO JEWELRY DESIGNER DUPES
Why shell out a pretty penny when you can have Tiffany and Co inspired jewelry? I absolute LOVE the dog tag necklace that comes in a bunch of different colors and metals!

CARTIER JEWELRY DESIGNER DUPES
CARTIER LOVE WEDDING BAND
CARTIER LOVE BRACELET
I just cannot justify spending $4k on a Cartier bracelet, so I found myself a Cartier designer dupe of course!

GUCCI EARRINGS DESIGNER DUPES

HERMES BRACELET DESIGNER DUPES
Hermes is SO classy, and SO Kim Kardashian… so I was excited to find some Hermes designer dupes on Etsy as well.
GOLDEN GOOSE DESIGNER DUPES

DESIGNER SHOES DUPES
SAM EDELMAN ELVA MULES
VALENTINOS ROCKSTUD SANDALS
TORY BURCH MILLERS SANDALS
GUCCI
MARMONT
GUCCI PRINCETON FUR MULES
JOURNEYS RUNNERS
All of these shoes I own and swear by…. you can hardly tell the difference unless you are a true label shopper. Another great selection of designer dupes… shoes edition!

DESIGNER TEES DUPES
These are not really designer dupes as much as designer inspired tees from Etsy! Created by talented small business owners, I love shopping small and still feeling designer!
Which one is your favorite designer dupe?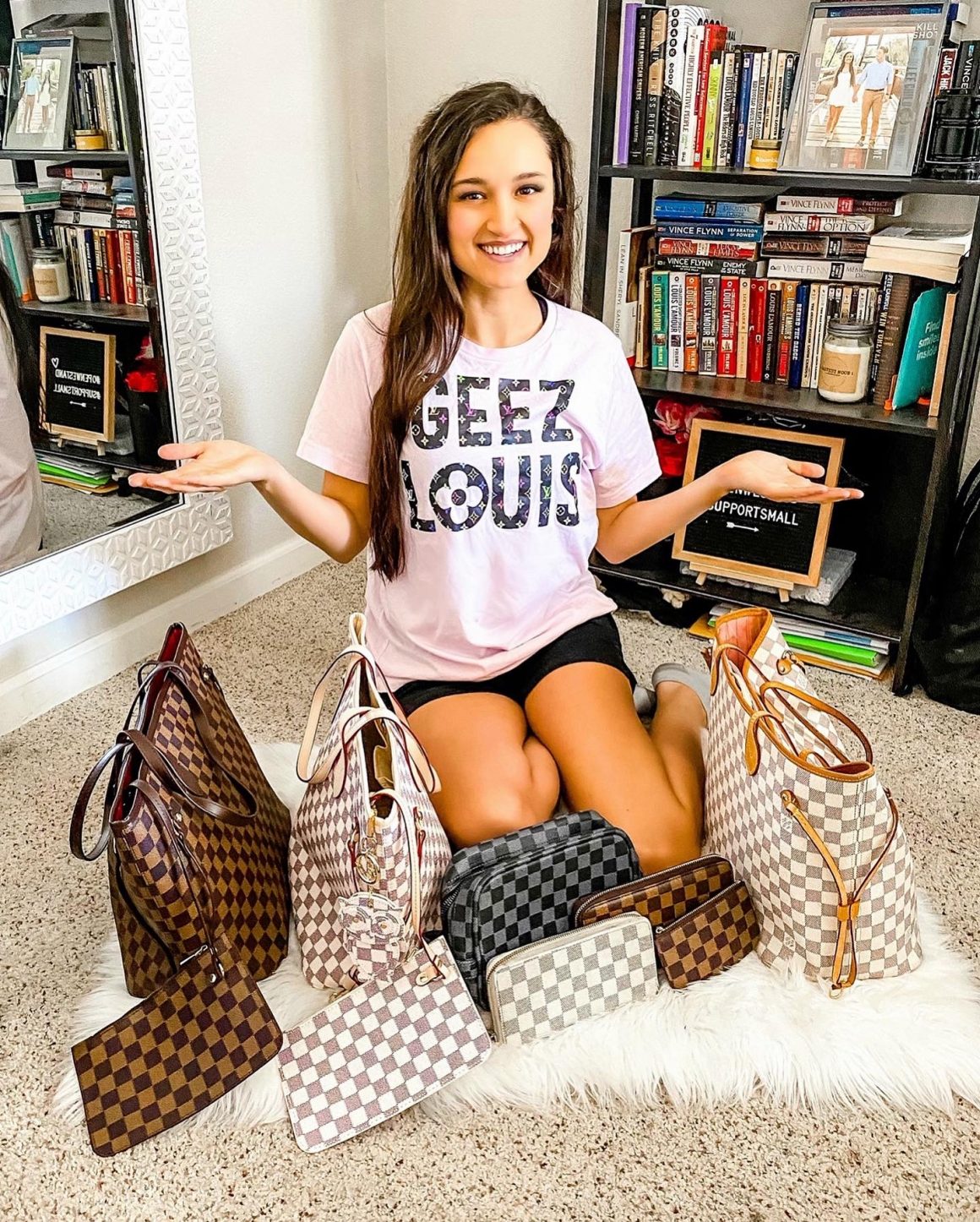 Can you actually tell the difference (the answer is no)? Go ahead and send me more of your designer dupes. Me and my faux Gucci belt are dying to hear them. 🙂
Disclosure: Please note that some of the links above are affiliate links, and at no additional cost to you, I will earn a commission if you decide to make a purchase after clicking through the link.