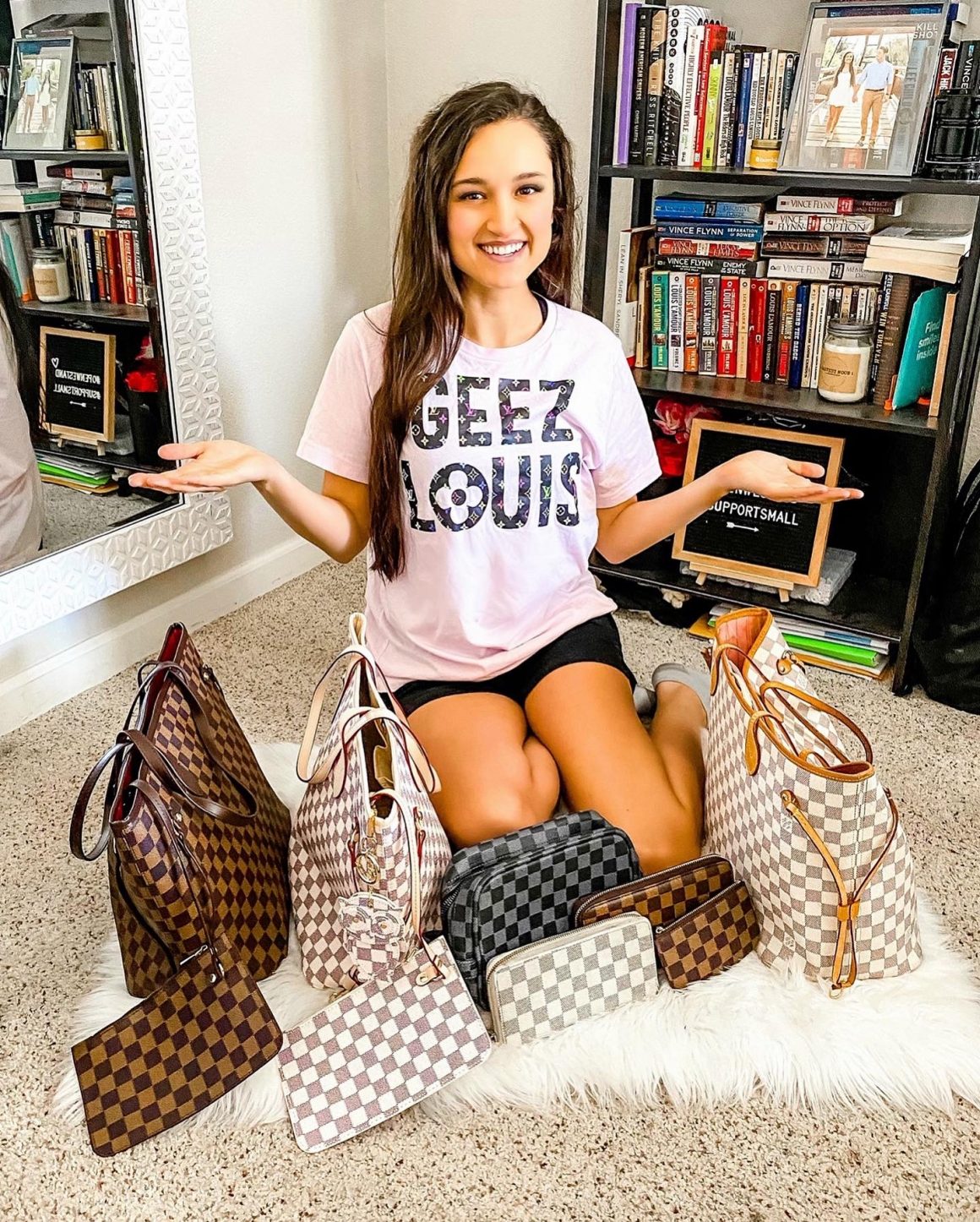 Looking for some Louis Vuitton dupes? Ever wonder where to get the best Louis Vuitton dupes? You have come to the right place! I am going to break down each of Louis Vuitton's bags and select a handful of dupes for you – so you can be designer dupe-in on a budget too.
Check out more designer inspired items (Gucci belt dupes, Burberry scarf dupes, and more) in my Affordable Designer Dupes For Cheap post!
Affordable Louis Vuitton Bag and Accessory Dupes

Louis Vuitton Neverfull Dupes Under $40
This bag is the exact size as the Louis Vuitton Neverfull in the MM size. The white checkered tote is lined in a neutral beige color and the brown checker print is lined in a gorgeous red – they are THAT similar! They even come with a small pouch that attaches inside the bag. This is SUCH a great Louis Vuitton Neverfull dupe – the best I have found thus far!

Louis Vuitton Speedy Dupes Under $40
The Louis Vuitton Speedy dupes are also excellent quality. I listed two retailers above that sell different styles – but both are extremely close to the real Louis Vuitton speedy. Another great Louis Vuitton dupe!

Louis Vuitton Felicie Pochette Dupes
The Louis Vuitton satchel, crossbody dupe is an excellent option for a night out! It comes in three colors – all checkered – and super lightweight with a non-rusting chain! This Louis Vuitton dupe is an 8/10.

Most Popular Louis Vuitton Bag Dupes


Louis Vuitton Pochette Metis Dupe
Another cute option – the Louis Vuitton Pochette Metis dupe is also available on Walmart for an extremely low cost – and excellent quality. This Louis Vuitton dupe is a 10/10!

Louis Vuitton Artsy / Graceful MM Dupe

Louis Vuitton Pallas MM Dupe
Cute and dainty, and definitely Legally Blonde inspired… these Louis Vuitton Pallas MM dupes are perfect quality for the low pricepoint. It has the long strap so you can wear it either way! 9/10

Louis Vuitton Palm Springs PM Dupe

I have always wanted a Louis Vuitton backpack – but I just cannot get myself to buy one! I love this Louis Vuitton backpack dupe! 9/10

Louis Vuitton Messenger Bag Dupe
Louis Vuitton Wallet Dupes Under $30
These Louis Vuitton wallet dupes are so stinkin' cute – there are even passport holders! I love all of these designs… cute and affordable.

Louis Vuitton Key Chain Dupes
These Louis Vuitton coin purses and keychains match the prints of all the Louis Vuitton bag dupes that I have listed above!

Louis Vuitton Passport Holder Dupes

Louis Vuitton Laptop Case Dupe
For all the working gals out there, these Louis Vuitton laptop case dupes are perfect to slip into the Louis Vuitton Neverfull dupe!

Louis Vuitton Luggage Dupes
Going somewhere? I recommend snagging this Louis Vuitton luggage dupe – in three prints and SOO worth it! 10/10

Louis Vuitton Cosmetic Makeup Case Dupe
These Louis Vuitton inspired makeup cases are soooo perfect for fitting 10-20 lipsticks, concealers, bronzers, and more. Also great quality and easily available at Walmart! 9/10

Louis Vuitton Accessories Dupes

Disclosure: Please note that some of the links above are affiliate links, and at no additional cost to you, I will earn a commission if you decide to make a purchase after clicking through the link.